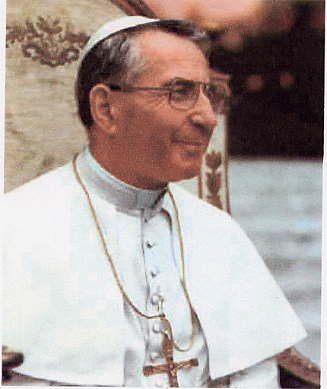 _______________________________________________________
Pope John Paul I died only 33 days into his Pontificate (August 26, 1978 – September 28, 1978). It was one of the shortest reigns in the annals of the papacy. The official cause of death was myocardial infarction (a heart attack). But there was a great deal of confusion in the details of his sudden death, and many were crying – murder!
The "Smiling Pope," as he was affectionately called was born Albino Luciani on October 17, 1912 near Belluno, Italy. He was ordained in 1935, made Bishop in 1958 and became patriarch of Venice in 1969. He received his cardinal's hat in 1973. He was a staunch believer in ecumenism and the reduction of Church wealth. He was warm, humble and had no aspirations for the papacy. After Pope Paul VI died, Luciani was elected on the second day of the Conclave in 1978. He refused to wear the papal tiara or to be carried in the gestatorial chair. He was praised as a liberal reformer who read Mark Twain. He was on a mission to reverse the Church's position on contraception, cleaning up the Vatican bank and dismissing many Masonic cardinals.
A word here about the Masonic cardinals:
The P-2 Lodge, as it was called, was founded in 1877 to provide for provincial Freemasons – known as Propaganda Due (P-2). It became a secret lodge in 1970 to recruit men of right-wing persuasion to prevent a Communist takeover. It was involved in a financial scandal and its offices were raided and membership lists were found. Many heads of the Italian State services, government officials, police chiefs, businessmen, journalists etc. were listed. This organization was disbanded but still operated secretly. In fact, they are still operating within Vatican circles to this very day.
Many Roman clerics were hostile towards Luciani. It was rumored he was deliberately elected by cardinals keeping secrets that he was too weak to bother them and his health would cause him to die prematurely in office. However, to the surprise and consternation of those very same cardinals, Pope John Paul I immediately investigated the Vatican Bank and wanted to clean house of any prominent prelates who were Freemasons.
He was about to make a series of dismissals and new appointments and remove those accused of financial and other misdeeds. All this has been construed as a motive for his murder.
The Vatican Bank Scandal:
The Vatican Bank (or The Institute for Works of Religion – IOR), was personally owned and operated by the Pope and made loans to religious projects all over the world. It was discovered that the bank exploited its high status and engaged in risky speculation and illegal schemes, including money laundering. Money was invested with Robert Calvi, head of the bank in Milan. He was eventually convicted for currency fraud in 1981 – (over $1.3 billion dollars was missing from bank funds). Calvi fled to England where he was found dead, hanging from a bridge in London.
Another participant in the scandal was Michele Sindona, an advisor to Pope Paul VI. Sindona was poisoned in 1986 in his prison cell. This sordid financial fraud also was linked with the Masons, the Mafia, arms dealers, political kickbacks and monies funneled through the CIA to support Solidarity in Poland.
Was the Pope Poisoned?
Davis Yallop's book, "In God's Name: An Investigation into the Murder of Pope John Paul I," (1984), speculates that digitalis was the poison used. The Pope was taking medicine for low blood pressure, and just half a teaspoon of digitalis could cause a fatal heart attack. But the Pope also suffered from poor circulation and had suffered an eye embolism in 1975. Switching pills or forgetting to take medication could also have proven lethal. But it is uncertain who would have been able to slip the digitalis into the Pope's liquid medication – Effortil.
There are many contradictions surrounding his death. The initial report issued by Cardinal Villot said the Holy Father had been found dead by Sister Vincenzia and not by a secretary. One report had him dead in his bathroom, the other by his desk in his bedroom. There were also discrepancies about the time the body was found, 4:30 am or 5:30 am? The official estimates was that he died at 11pm on September 28th. No autopsy was performed. (The last Pope to be autopsied was Pius VII in 1830).
Another report stated the Pope complained of feeling sick but wouldn't call a doctor. He suffered a pain and a violent cough during that afternoon. It might have been a minor embolism. He was conferring with two secretaries around 8pm. After dinner, he rushed down the hallway to get a telephone call around 9:15 pm. This may have triggered the fatal heart attack. Both cases are plausible. But what really happened that night?
The Motives for Murder:
This spiritual leader of all the Roman Catholics, Albino Luciani, was actually embarking on a revolution. He wanted to set the Church in a new direction which was considered highly undesirable and dangerous by many high ranking Church officials.
He wanted, first of all, to strip many of powers by dismissing them or reassigning them into harmless positions. This directly involved the Freemasons. There were over one hundred Masons within Vatican City ranging from Cardinals to priests. Canon Law stated that to be a Freemason was grounds for automatic ex-communication. Six men in particular, stood to lose a great deal if Pope John Paul I remained in power. (These were – Marcinkus, Villot, Calvi, Sindona, Cody and Gelli). There was a suspicion of a conspiracy among these men with Villot the instigator and Gelli the executioner.
Motives for the Pope's murder were in these series of dismissals and new appointments he was about to make. The Pope also wanted the Church's wealth shared with the poor. He was also on the verge of reversing the Church's position on artificial birth control, as well as cleaning up the messy Vatican Bank scandal. He was about to approve the birth-control pill. In his "Humanae Vitae," he urged pastoral clergy acceptance of contraception and also acknowledged those children born by in-vitro fertilization. A remarkable and radical change from current Church policy, indeed.
Does this prove assassination by poisoning? The alleged conspirators tried to make it look like a natural death, according to Yallop. His Holiness' domestics, secretaries, doctors, Swiss Guards, police force and judiciary of the Italian State were forced into silence. Sindona, Calvi (The Banco Ambosiano Group), Marcinkus and Cardinal Cody stood to lose much if Albino Luciani were to carry out his specific course of action. There was a growing list of people about to be seriously affected by the purported action of the Pope, especially Cardinal Jean Villot, the Pope's Secretary of State. Bishop Marcinkus was to be replaced by Monsignor Abbo and Cardinal Villot was to be replaced with Cardinal Benelli as Secretary of State for the Vatican. There was apparently much corruption that the Pope was about to root out.
Poison was the most efficient way to have his death appear natural. It would leave no tell-tale external signs. Digitalis was the most probable. It would mask the conspiracy. This plan would have had to involve intimate knowledge of Vatican procedures. There would also be no autopsy. Other incriminating and outward signs of foul play would be removed.
The Details:
Cardinal Villot's account was that it was a tragic accident. He alleged that the Pope overdosed on his own medication. This explanation was most improbable and defamatory. It almost insinuated that the Pope, so overwhelmed with this burden of his office, committed suicide! Everything was done to cover up this crime. However, no one would believe in an accidental death. And Cardinal Villot happened to be a Grand Master of the Masonic secret. He concocted a story for Sister Vincenzia who discovered the body. Then he made her take a vow of silence afterwards. She said she found the body in the bathroom, not his bed.
The bottle of Effortil disappeared along with the Pope's glasses and slippers, probably because there were traces of vomiting on them. This was a symptom of digitalis poisoning. Also, the Pope's Will had disappeared. The embalmers were called immediately after Cardinal Villot confirmed the Holy Father's death at 5:30 am. The Cardinal then made Sister Vincenzia take the vow of silence. Dr. Buzzonati (not Prof. Fontana of the Vatican medical service, she should have been called in), confirmed the death and attributed it to acute myocardial infarction. The death occuring at 11 pm last evening (Sept. 28th). This report was made around 6:00 am. A whole hour had passed. Eventually Villot informed the other cardinals from around 6:30 am onward. No sacrament of extreme unction was given! The hypothesis of a sudden death seemed untenable to the personal doctor of the Pope's faithful secretary Don Lorenzi.
In death, the Pope's features were twisted and contorted in agony. The Signoracci brothers, the embalmers, attempted to remodel the face so his death agony would be changed to show a calm expression. Many people, however, had already seen the distorted features before these embalmers did their work.
The sisters who served as maids and domestics, cleaned and polished the Pope's chambers soon after his death. Any evidence, such as fingerprints, was destroyed. Again, vomiting was one of the early symptoms of a digitalis overdose. The secretaries packed up the Pope's clothes, letters, notes and personal mementos. By 6 pm the evening of September 29th, the Pope's 19 rooms of the Papal Apartments had been thoroughly stripped. And the embalmed body would make an autopsy useless. By 11 pm that same evening, practically all traces of his reign had been removed. The memory of his presence in the Vatican had been wiped clean. The alleged assassination was complete. So the murder theory goes.
Many causes for suspicion aroused:
The Pope was in good health, according to his brother Edoardo. He reported that His Holiness was given a clean bill of health after a medical examination three weeks before his death.
A report in Time Magazine – October 9, 1978 – relating an opinion that the untimely death of Pope John Paul I stirred deep suspicions of him being poisoned.
The Third Secret of Fatima, which was never made public, revealed, some authorities say, the outlines of the murder of a Pope.
The Vatican has thwarted any research and suppressed any investigation into this matter from the very beginning.
SUMMARY OF EVENTS:
Early September 1978: Pope John Paul I asks Cardinal Jean Villot, the Secretary of State for the Vatican, to investigate the Vatican Bank operations. He also is considering the reversal of the Church's stand on artificial birth control.
Later that month he presents Cardinal Villot with a list of those to be transferred, reassigned or asked to request for resignation. These lists are persons suspected of being Freemasons (that group called P-2). Cardinal Villot happened to be Grand Master, and his name was at the head of the list. This shift of power would have had a major impact on the existing Vatican hierarchy and would also have affected its financial practices.
September 29, 1978: John Paul I found dead in his bed. Cardinal Villot issues false statements, removes key evidence from John Paul's room and orders the body embalmed before an autopsy can be performed.
FURTHER EVENTS AFTER HIS DEATH:
October 1978: John Paul II replaces the dead Pope. None of Luciani's instructions or edicts are carried out.
January 21, 1979: Murder of Judge Emillio Alessandrini, a magistrate investigating the Banco Ambrosiano activities. Calvi and Sindona have close ties to the Vatican.
March 20, 1979: Murder of Nino Pecorelli, an investigative journalist, exposing membership and dealings of the Freemason's P-2 group.
July 11, 1979: Murder of Giorgio Ambrosioli following his testimony concerning Sindona and Calvi in Vatican business circles.
July 13, 1978: Murder of Lt. Col. Antonio Varisco, head of Rome's security service also investigating the activities of the P-2 group and was speaking with Giorgio Ambrosioli two days before Ambrosioli's death.
July 21, 1979: Murder of Boris Guilano, the Palermo police deputy who spoke to Ambrosioli also two days before his death. This concerned Sindona's money laundering of Mafia money channeled through the Vatican Bank to Switzerland bank accounts.
October 1979: Bomb explodes in the apartment of Enrico Cuccia of Mediobanca and a witness of G. Ambrosioli.
February 2, 1980: The vatican withdraws an agreement to provide videotaped depositions of M. Sindona in his trial in the U.S. on charges of fraud, conspiracy and misappropriation of funds in connection with the collapse of the Franklin National Bank.
May 13, 1980: Attempted suicide of Sindona in jail.
June 13, 1980: Sindona sentenced to 25 years.
July 8, 1980: Attempted suicide of Roberto Calvi, also jailed for fraud.
September 1, 1981: The Vatican Bank acknowledges its controlling interests in a number of banks controlled by Calvi for more than one billion dollars of debt.
January 2, 1981: A group of shareholders in Banco Ambrosiano send a letter to John Paul II exposing connections between the Vatican Bank and Roberto Calvi, P-2 and the Mafia. The letter is never acknowledged.
April 27, 1982: Attempted murder of Roberto Rosone, General Manager of Banco Ambrosiano as he was trying to clean up the bank's operations.
June 17, 1982: Roberto Calvi found hanged to death from a bridge in London. Days later $1.3 billion dollars was found missing from the Banco Ambrosiano, Milan.
October 2, 1982: Guiseppe Dellacha, executive of Banco Ambrosiano found dead from a fall out of one of the bank's windows.
March 23, 1986: Michele Sindona poisoned to death in the Italian jail for which he was serving time for ordering the death of Giorgio Ambrosioli.
PREDICTIONS OF THE MURDER OF JOHN PAUL I BY NOSTRADAMUS
Century 3, Quatrain 35:
When the sepulcher of the great Roman is found,
The day after a Pope shall be elected;
The Senate (Conclave) will not approve of him.
His blood is poisoned in the sacred chalice.
Century 10, Quatrain 12:
The one elected Pope will be mocked by his electors,
This enterprising and prudent person will suddenly be reduced in silence,
They cause him to die because of his too great goodness and mildness.
Stricken by fear, they will lead him to his death in the night.
Century 4, Quatrain 11:
He who will have the government of the great cape
Will be lead to execute in certain cases.
The twelve red ones will spoil the cover.
Under murder, murder will come to be perpetrated.
_______________________________________________________
Based upon the evidence and events, only one conclusion is evident. But still, there were no indictments, no subpoenas issued, no trials, no convictions made. It has been twenty five years since the death of Pope John Paul I and the mystery will continue to be debated.
_______________________________________________________
A poll conducted recently, resulted in 30% of the Italians are convinced that John Paul I was assassinated…(that's 15 million people).
_______________________________________________________
THE END